News and Events
On this page you'll be able to find out what's going on around the Trust and catch up on all the latest Trust news.
Details
NHS Regulators have given the green light for the planned merger of two NHS trusts in the Black Country.
On 1 April, staff and services from Dudley and Walsall Mental Health Partnership will transfer over to Black Country Partnership NHS Foundation Trust to form one NHS trust – which will be known as Black Country Healthcare NHS Foundation Trust.
This development will see one main NHS provider for mental health, learning disability and children's healthcare services across the Black Country. Mark Axcell, Chief Executive of both trusts commented "We are delighted that our plans have been given the final approval and we can now take the required steps to join together."
"Whilst 1 April signifies an important milestone for us, our focus at the moment is ensuring we are doing all we can to provide safe care and supporting our health colleagues across the system in dealing with the Covid-19 pandemic.Both trusts have recently been rated 'Good' in their most recent CQC inspections and have seen improving staff survey results.
This development only strengthens that work and helps forge future plans around strengthening local mental health and learning disability provision.
Details
The NHS is "rallying the troops" for the war on coronavirus, with volunteers being called up to help vulnerable people stay safe and well at home.

The nation is looking for up to 250,000 volunteers to help up to 1.5 million people who have been asked to shield themselves from coronavirus because of underlying health conditions.

Members of the public can sign up quickly and easily at goodsamapp.org/NHS to become NHS Volunteer Responders, and can be called on to do simple but vital tasks such as:
delivering medicines from pharmacies;
driving patients to appointments;
bringing them home from hospital;
or making regular phone calls to check on people isolating at home.
NHS Volunteer Responders is not intended to replace local groups helping their vulnerable neighbours but is an additional service provided by the NHS.

GPs, doctors, pharmacists, nurses, midwives, NHS 111 advisers and social care staff will all be able to request help for their at-risk patients via a call centre run by the Royal Voluntary Service (RVS), who will match people who need help with volunteers who live near to them. Some charities will also be able to refer people to the service.
Read more: 'Your NHS Needs You' – NHS Call For Volunteer Army
Details
Our Trust is closing its wards to visitors to help stop the spread of Coronavirus.
Wards at Edward Street Hospital, Hallam Street Hospital, The Macarthur Centre, Gerry Simon Clinic, Penrose House and The Larches in Sandwell and Penn Hospital in Wolverhampton will be stopping visitor access from Midnight on Wednesday 18 March 2020 until further notice.
Alongside inpatient wards, the Trust is reviewing its outpatient and community activity offering more flexible and alternative methods such as telephone consultations or home visits based on a case by case basis.
Maintaining services and ensuring patient safety is the Trust's top priority and they are working closely with local health and social care organisations to minimise disruption for our local communities.
The latest Trust guidance can be found on our website www.bcpft.nhs.uk
Details
Following the recent COVID19 situation and subsequent government directives, our Trust Board will be invoking s28.1 of its constitution and excluding members of the public from attending the Trust Board public meeting scheduled for 25th March 2020 and other public meetings until further notice.
s28.1 Meetings of the Board of Directors shall be open to members of the public. Members of the public may be excluded from a meeting for special reasons.
Members of the public will be able to download and view Trust Board papers by clicking here and submit any questions or queries on them to Gilbert George, Company Secretary at This email address is being protected from spambots. You need JavaScript enabled to view it..
Details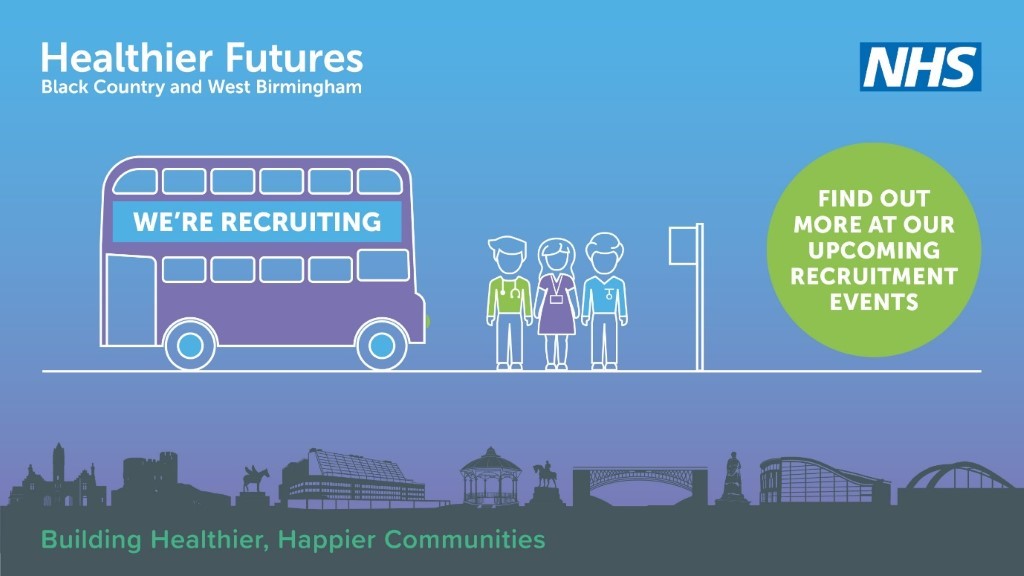 Recruitment and retention of the right staff is integral to the successful delivery of better health and social care. Healthier Futures, the Black Country and West Birmingham Sustainability and Transformation Partnership (STP), is facilitating the recruitment of over 30 healthcare roles across five partner organisations within the Black Country and West Birmingham.
Helen Hibbs, Senior Responsible Officer for Healthier Futures, said: "Whether you're experienced or newly qualified, there are over 30 exciting roles within the Black Country and West Birmingham area to apply for.
"With opportunities ranging from occupational therapists and registered nurses, to radiographers and theatre practitioners, there's plenty on offer. It could be the start of a new career in the NHS, and you can join us to help people in the Black Country and West Birmingham live healthier lives. Being centrally located with good transport links, the area is a great place to live, work and thrive."
A recruitment bus will be touring the Black Country and West Birmingham during half term week. It will be parked at the following sites between 9am and 5pm:
Read more: Looking for a new challenge in healthcare? Your local NHS is recruiting!
Details
Following the recent COVID19 situation and subsequent government directives, the Trust and its Assembly of Governors (AoG) will be invoking s15.2 of the Trust's constitution and excluding members of the public from attending the AoG public meeting scheduled for 25th March 2020 and other subsequent AoG public meetings until further notice.
s15.2 Meetings of the Assembly of Governors shall be open to members of the public, unless the Assembly of Governors decides otherwise in relation to all or part of a meeting for reasons of commercial and individual confidentiality, or other proper grounds.
Members of the public will be able to download and view public papers by clicking here and submit any questions or queries on them to Gilbert George, Company Secretary at This email address is being protected from spambots. You need JavaScript enabled to view it..
Details
The NHS and Public Health England (PHE) are extremely well prepared for outbreaks of new infectious diseases. The NHS has put in place measures to ensure the safety of all patients and NHS staff while also ensuring services are available to the public as normal.
The risk to the general public is moderate. If you have arrived back to the UK from mainland China, Thailand, Japan, Republic of Korea, Hong Kong, Taiwan, Singapore, Malaysia or Macau within 14 days, follow the specific advice for returning travellers.
Anyone who has travelled to China or places listed above in the last 14 days and develops symptoms of cough or fever or shortness of breath, should immediately:
Stay indoors and avoid contact with other people as you would with the flu
Call NHS 111 to inform them of your recent travel to the country
Read more: Coronavirus: Public health guidance and information